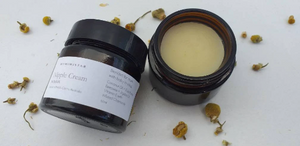 Nipple Cream Mamma created from Mums to Mums. With keeping baby in mind this balm is free from any chemicals or preservatives only using natural ingredients.
Keeping baby safe with organic Coconut Oil, locally sourced Bees Wax, Shea Butter, Jojoba Oil, Vitamine E and infused Chamomile Oil
Use a tiny amount on cracked, sour and inflammed nipples after breastfeeding.
50ml 
Self Life one year