Gift Boxes, Pamper Hampers, Thank You Gifts & More
Quality Pamper Gifts for Weddings, Birthdays, Father's Day, Mother's Day, Valentine's Day, Pregnant Mums To Be, Baby Arrivals & Thank You's. Or pamper someone with a luxurious Pamper Hamper for no reason at all!
Pamperers, gift-givers and recipients have enjoyed MYMIMISTAR's unique, all natural, eco-friendly range since 2015. 6000+ happy clients and 700+ five star reviews later, you can count on MYMIMISTAR to deliver quality gifts every time.
We make it easy with free standard delivery, gift wrapping included and you can Buy Now Pay Later. Impress, thank or pamper someone special in your life with MYMIMSTAR. Shop now.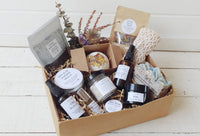 The Ultimate Pamper Gift Set Box
Gorgeous handmade pamper gift box, perfect for pampering and relaxation. Contains 100% pure and natural luxurious bath and skin products, personalised card and more, making the ultimate pamper gift.
More Details
Thank you Gift Hamper
Generous Gift Hamper is the perfect way to say "Thank you". Handmade and personalised. Made with love and joy. Contains candle, soap, washer, balm, coffee, bath bomb, lip balm, mug, chocolates & card. One of our best sellers.
Buy Now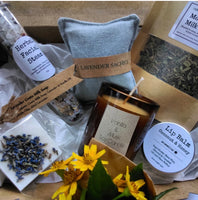 Pregnancy Gift Box Set
The perfect Pregnancy Gift Box Set designed specifically for expecting mums. Contains 100% pure, natural and luxurious bath and skin products, personalised card and more. The perfect pregnant pamper. A great Baby Shower gift. Congratulate and pamper the special Mum to Be in your life.
LEARN MORE